Travel & Insurance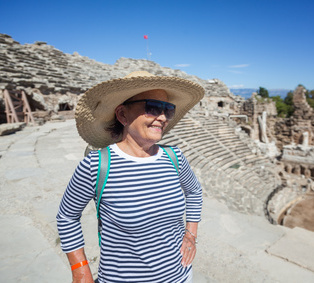 Travel Insurance Information - Arranging Travel Insurance by Stephen Grange - click here
Ostomates travelling overseas should ensure that they take enough supplies with them to cover the duration of their stay as supplies cannot be sent by Associations to destinations outside of Australia. There may be times however when you need to obtain appliances during your travels and it is recommended that a list of associations or contacts within your destination country be carried with you in case of emergency.
A full list of associations may be obtained from the International Ostomy Association (IOA) website.
The Australian Government has signed Reciprocal Health Care Agreements (RHCA) with some countries which means that, as an Australian resident, you may be eligible to receive assistance with the cost of medically necessary treatment, including stoma appliances if necessary, while travelling in Finland, Republic of Ireland, Italy, Malta, The Netherlands, New Zealand, Norway, Sweden, United Kingdom, Belgium and Slovenia. It is highly recommended that travellers to these countries check eligibility and entitlement for supply prior to leaving Australia.
To access assistance through an RHCA travellers may need to provide local authorities with:
- an Australian passport or other passport which shows you are a permanent Australian resident and
- a valid Australian Medicare card.

It is important when seeking treatment that medical staff in the country you are visiting be advised that you wish to be treated under the Reciprocal Health Care Agreement with Australia. For more information about Australia's Reciprocal Health Care Agreements click here.
When travelling to a destination that does not have a Reciprocal Health Care Agreement with Australia, stoma appliances will need to be purchased. Unfortunately Medicare reimbursement cannot be obtained for the cost of stoma appliances purchased overseas.
STN Clinic
Ostomy NSW is pleased to announce the appointment of Lee Gavegan as our STN operating on a weekly basis. Lee has twenty-two years' experience with stoma care and believes in the importance of a patient-centred approach to care. The clinic will be a virtual telehealth process, with consultations utilising mobile phone and video conference facilities. For this reason, Lee and her clinic is available for all members to contact her for support and care. At this stage there is no face-to-face clinic available at our temporary location.
The telehealth clinic will operate on Tuesdays from 9am to 3pm. Please call our office on (02) 9542 1300 to make an appointment, and Lee will contact you for a time to meet. The virtual clinic is offered to all our members and we would appreciate a donation to Ostomy NSW to support the cost of providing this service. This service is especially recommended for members who are not able to see a local STN.
Regional Member meetings
Refer to our latest journal for all meetings by selecting the link here.
Links
The Internet - Web sites can be a great source of general health and stoma related information, although some misinformation also exists. For individual health concerns, an STN or other health professional should always be consulted. However, here are some websites that may be of interest to ONL members.
MEMBER FEEDBACK FROM SURVEYS IN 2019 TO 2021
ACSA Ostomate's Survey 2021
ACSA Survey 2021 Feedback for Ostomy NSW Members
ONL Member Survey results
ONL Member Survey 2019 feedback for website
Dept of Health Stoma Appliance Scheme consultation outcomes
Dept of Health Stoma Appliance Scheme consultation outcomes
Publications
Newsletters: